Psycho-Educational Testing is designed to investigate why a child may be experiencing academic, social, behavioral, and/or emotional difficulties in and/or outside of the classroom. Educational testing helps to isolate what is interfering with a child's learning process, be it social emotional issues, issues with attention and or hyperactivity/impulsivity (ADHD), a neurologically based learning disability, such as dyslexia, or a combination of any of the above.  In addition to discovering underlying weaknesses responsible for academic, behavioral, and emotional struggles, educational testing also focuses on determining strengths and resources that a child can capitalize upon in order to compensate for their weaknesses.
Assessments conducted by a clinician typically involve reviewing available records, making observations, interviewing the client, parent, and teachers, and administering standardized testing measures. Once the necessary information is gathered, results are interpreted in a comprehensive report that includes diagnoses and recommendations. A follow-up session is usually scheduled with the individual/parent(s) to review results, recommendations, and to answer questions. Assessments typically take a few scheduled appointments. Sometimes referrals to other multi-disciplinary clinicians are made, such as a speech, physical occupational therapist.
Psycho-Educational Testing may be initiated by a parent, recommended by a doctor, or requested by an educational institution to address various educational/achievement concerns such as:
Identifying learning disabilities
Diagnosing ADD and ADHD
Determining if your child is gifted
Measuring emotional/psychological functioning
Evaluating cognitive abilities through IQ testing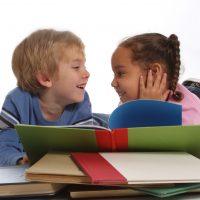 Fees for psycho-educational evaluation depend on the complexity of the assessment battery necessary, but typically range from $1700 to $3,000.
If you would like to pursue a psycho-educational evaluation, please download and complete the Intake Form for children or adults and return it to our office or contact us for further information.
PREPARATION: For the first session, please bring a copy of your report cards beginning as early as you can locate and a copy of previous testing reports (medical, psycholgical, educational). Take any prescribed medications on the day of testing. You may wish to bring a snack and drink. Get a good night sleep and something to eat prior to the testing sessions.
What are the signs of ADD or ADHD?
If you or a loved one exhibits more than one of following symptoms:
Forgetfulness
Inattention
Squirming/Fidgeting
Difficulty Following Instructions
Daydreaming
Boredom
What does a ADD/ADHD assessment include?
Intake interview and screening with client
Interview with others family and teachers
If relevant and we will obtain consent for a school observation
Testing of visual/auditory impulsivity and inattention
Behavior and attention ratings by client and others