Pediatric physical therapy helps children build strength and increase range of motion, endurance, and coordination. Physical therapy can benefit children with developmental delays, birth defects, or illness. It provides the extra help some children need to achieve milestones such as walking, running, and jumping, or to develop other gross motor skills.
Physical therapists at The Therapy Spot of Baltimore are Maryland Board certified and are here to help your child succeed. Our therapists will create a specialized treatment plan for each child to ensure optimal gains.
Our team of Pediatric Physical Therapists treat children of all ages with varied conditions including:
Apraxia
Autism
Birth defects
Brachial plexus injuries
Cerebal Palsy
Developmental delays
Genetic disorders
Head injuries
Hypotonia/ low muscle tone
Joint stiffness
Muscular Dystrophy
Orthopedic disabilities or injuries
Spina Bifida
Sports injuries
Toe walking
Torticollis
Vestibular Dysfunction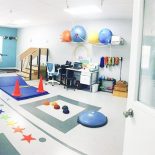 Your child may be in need of physical therapy if:
He or she is showing signs of delayed milestones including: rolling, sitting, crawling, or walking.
He or she fatigues easily or shows poor postural control.
He or she has had a recent injury or surgery that has restricted strength, mobility or range of motion.
He or she has difficulty keeping up with peers on the playground or while playing team sports.