At The Therapy Spot our speech and language pathologists provide excellent speech therapy services and help children with communication difficulties.
Pediatric Speech-language pathologists can help children with:
Apraxia
Articulation
Augmentative Communication
Feeding
Fluency
Oral-Motor Skills
Receptive and Expressive Language Delays
Sensory Processing Dysfunction
Sign Language
Social Communication Skills
Speech and Language Delays
Stuttering
Swallowing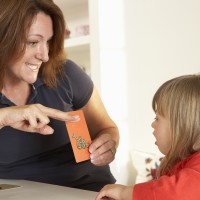 Your child may be in need of speech therapy if:
Is not meeting developmental milestones, such as cooing, producing their first words, or producing phrases.
Or  if our child Has:
Trouble coordinating their oral (tongue and lips) motor movements, or have week jaw or tongue strength.
Difficulty articulating within their speech, or does not easily understand language such as direction or temporal spatial concepts.
Trouble expressing themselves through language.
Difficulty in various social situations.
Disfluencies while speaking, like stuttering.
A weak, hoarse, or otherwise poor vocal quality voice.
A limited food preference, such as only liking certain textures.