At The Therapy Spot we specialize in helping your child achieve their full potential through pediatric orthopedic physical therapy. Our Therapists make make their treatment sessions fun and engaging. Our ultimate purpose provide highly skilled treatment and innovative solutions in an uplifting environment.
What is pediatric orthopedic physical therapy?
Orthopedic physical therapy is the study and practice of correcting functional impairments of the musculoskeletal system. This includes the body's bones, joints, ligaments, tendons, muscles, and nerves. Physical therapists who specialize in this discipline provide services that help to restore function, improve mobility, and relieve pain while promoting overall health and fitness.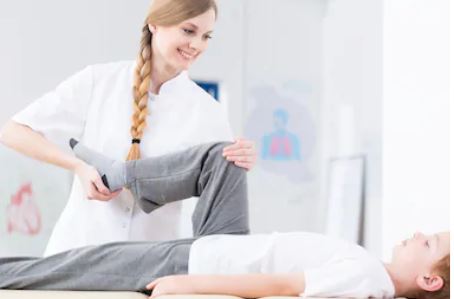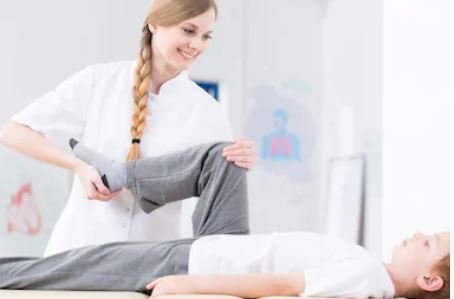 Pediatric orthopedic physical therapy extends this discipline to the developmental care of children by taking into account their future growth. Since childrens' bones, muscles, and joints require special care, damage can occur if they are not diagnosed or treated correctly. Therapy Spot physical therapists will work to identify and treat a large variety of orthopedic problems and injuries. Pediatric orthopedic physical therapy works to help children recover as quickly as possible in order for them to return to their normal daily activities.
Common Pediatric Orthopedic Conditions That We Treat:
Arthroryposis

Bone Fractures

Gait Abnormalities (Idiopathic Toe-Walking, Cerebral Palsy)

Ligament Sprains

Movement Disorders (Autism and intellectual disability)

Muscle Strains and Muscular Disorders (Muscle imbalances)

Osgood-Schlatter Disease

Postural Alignment

Scoliosis

Sports-related Injuries (Knee pain, back pain, shoulder instability)

Surgical Rehab (Osteochondroma, meniscal and ligamentous repairs, derotational osteotomy, hip dysplasia).
If your child has any of these conditions please call the office at 410-358-1997 to schedule an appointment.