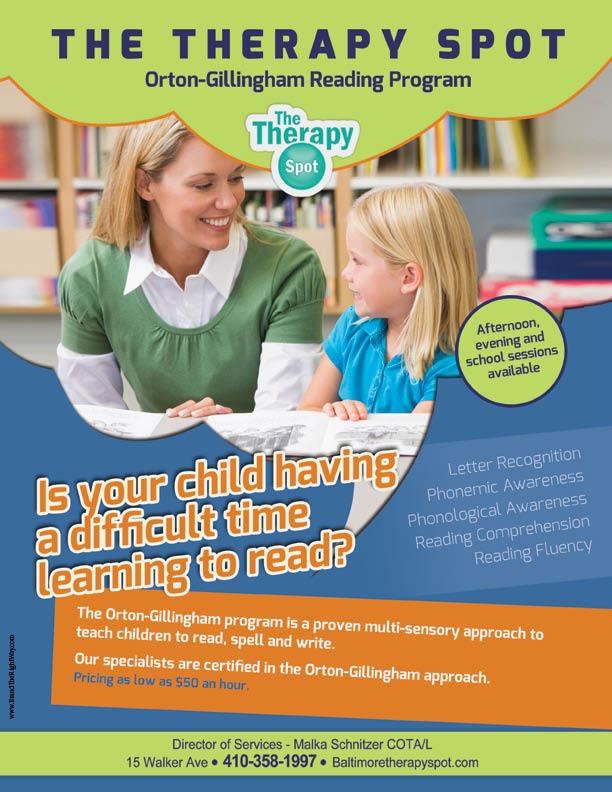 Orton-Gillingham at The Therapy Spot
The Therapy Spot's Orton Gillingham reading program offers tutoring services, teaching children to read, write, and spell using the Orton-Gillingham approach. Our tutors are trained and certified in the Orton-Gillingham method.  Sessions are available in schools, as well as in the afternoon or evenings at The Therapy Spot clinics. Please contact our office to schedule sessions. Email us at info@thetherapyspot.biz, or call us at 410-358-1997.
What is Orton-Gillingham?
Orton-Gillingham is a multi-sensory alphabetic phonetic approach to teaching children to read, write, and spell.  With this approach, students alternate between reading and writing the same sound, in the same lesson. Learning to encode and decode simultaneously reinforces the sensory pathways, as links are made between visual, auditory, tactile/kinesthetic pathways. This approach also uses a systematic and cumulative method to review and strengthen memory.  Combination letter sounds are taught and reviewed until they become automatic.
Orton-Gillingham has been proven to effectively teach children, and can especially help children who struggle with the conventional methods of learning to read, write, and spell that are taught in the classroom.  Using a multi-sensory approach allows children to learn through their senses, making it easier to retain information and make faster progress. Additionally, Orton-Gillingham focuses on an individualized plan to ensure that each child's needs are met, and with direct instruction and continuous student-teacher interaction, each child is assured the attention he or she needs to succeed.
Orton-Gillingham: Who Needs This Approach?
Does your child:
have difficulty identifying the letters of the alphabet?
have difficulty matching the letters of the alphabet to the correct sounds(phonemes) and vice versa?
have difficulty rhyming words?
reverse letters when spelling or reading?
pause at random points when reading a sentence, or stumble when reading?
have poor comprehension skills?
If you answered yes to any of the following questions your child could have success with The Therapy Spot's Orton-Gillingham Reading Program. The Orton-Gillingham method of teaching reading, writing and spelling helps children with:
Letter recognition
Phonological and phonemic awareness
Reading fluency
Reading comprehension
Spelling
Additionally, children with difficulties in the following areas can benefit from this program:
Students who have failed to learn in school
Students who have difficulty remembering whole words
Students who use phonics incorrectly or not at all
Students with little knowledge of language generalizations
Students who cannot visualize words in order to spell
Students who do not write automatically
Students who do not comprehend what they are reading until they hear it read aloud
Students who need to work diligently on reading and writing until their skills are automatic; who keep trying and never quit.
Students who are dyslexic, or have other language disabilities
(- Barbara A. Bliss)