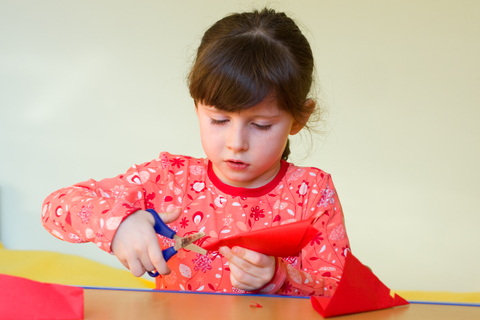 In a previous post, Children Achieving Success: a look into pediatric occupational therapy, we mentioned the importance of understanding the developmental milestones that children should reach at any given age. With this knowledge a parent or teacher can ensure that each child is reaching these goals, and if not they will know to reach out to a doctor or therapist for testing. Below I have listed the developmental milestones for children ages two to five years old.
Developmental Milestones at 2 Years Old
Removes unfastened coat
Removes shoes if laces are untied
Helps pull down pants
Finds arm holes in pull over shirt
Stack 4-6 cubes
Developmental Milestones at 2 ½ Years Old
Removes pull down pants with elastic waist
Assists in pulling on socks
Puts on front buttoned coat or shirt
Unbuttons large buttons
Draws a vertical line
Developmental Milestones at 3 Years Old
Copies Horizontal Line
Copies a Circle
Puts on pull over shirt with minimal assistance
Puts on shoes without fasteners (may be on wrong foot)
Puts on socks (may be with heel on top)
Zips and Unzips once latched
Buttons large front buttons
Developmental Milestones at 3 ½ Years Old
Finds front of clothing
Snaps or hooks front fastener
Unzips zipper on jacket separating zipper
Puts on mittens
Buttons series of 3 or 4 buttons
Unbuckles shoe or belt
Dresses with supervision (needs help to orient front/back)
Cuts a paper in half within ½ inch of line
Draws a cross
Traces a horizontal line
Grasps a crayon with thumb and index fingers positioned downward to the end of the crayon
Developmental Milestones at 4 Years Old
Removes pull over garment independently
Buckles shoes or belt
Zips jacket zipper
Puts on socks correctly
Puts on shoes (needs assistance with tying laces)
Draws a diagonal line
Developmental Milestones at 4 ½ Years Old
Draws a square
Cuts out circle and square on a paper
Connects dots by drawing straight lines
Touches each finger to thumb
Grasps crayon with crayon resting between the top of the index finger and the thumb.
Developmental Milestones at 5 Years Old
Ties and unties knots
Dresses unsupervised
Colors inside the lines
Folds a paper in half accurately
Copies a diamond shape